Every fall, it seems like magazines are covered in ads for beautiful new boots. And every fall, I envision the perfect pair of brown riding boots. I wish I could say that I have found them, and that they will last me for the rest of my life, but what I can say is that they fit pretty well, I love the way they look and they cost $30. Hey, let's be honest, if I bought exactly what I wanted (i.e. supple but durable leather, customized fit), it would likely cost me well over $100, probably $200.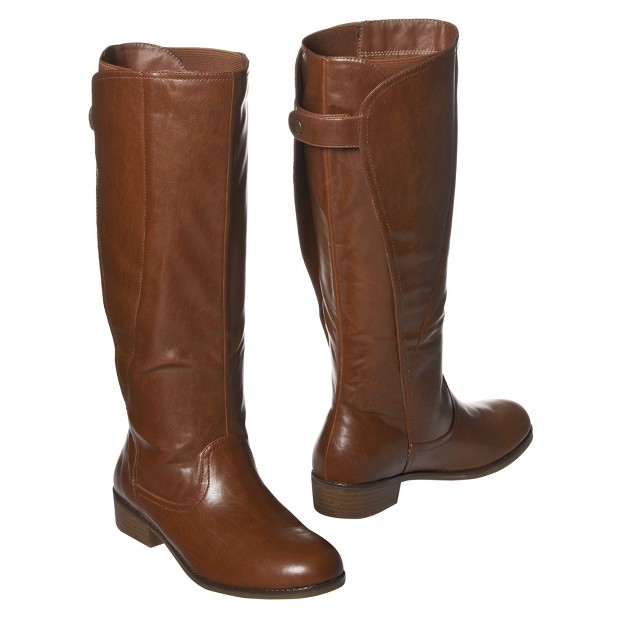 I kept trying these on every time I went to Target and finally gave in when they went on sale for $30. Besides the price, what sold me on them were the color and the fit. First, the cognac color is pretty true to the picture, and is exactly what I wanted. Then, there is a strap with snaps to make the leg opening wider or narrower, depending on the width of your calves, which helps a little. Also, they hold snugly around my heel, which keeps my foot from slipping up and down and chafing or rubbing.
Pros:
- Cognac Color
- Snug Heel Fit
- Adjustable Leg Opening
- Low Price
As for the downsides, it would be nice to have a boot that was real leather, which these are not, as you might have guessed from the price. Also, my perfect boot would measure 13" tall and have a 13" leg opening, but these measure closer to 14" tall and wide. Even with the adjustable strap on the tightest setting, they are still 14" in circumference. I think the adjustable feature benefits people with wider calves more than those with narrow ones, but at least it helps a little and doesn't cause any bunching in the back when fully tightened.
Cons:
- Faux leather
- Slightly too tall and wide
In the end, I think that these are keepers. I wore them to walk several miles and found them very comfortable.
See them in action tomorrow!